January 2015
Year-End 2014 Market Peek
NAI Hiffman is pleased to present its Year-End 2014 Market Peek, a first look at the market statistics for the Chicago Metropolitan industrial and office real estate markets.
Industrial Vacancy Drops Below 8% for First Time Since 2001
Over the course of 2014, Chicago's industrial market absorbed an impressive 11.7 million SF of vacant space. Net absorption totaled nearly 2.9 million SF during the fourth quarter alone, outpacing the 2.2 million SF absorbed during the third quarter.
The industrial vacancy rate improved by 44 basis points in 2014, ending the year at 7.95%, the first time vacancy has dipped below the 8% threshold since 2001, 13 years ago.
During the fourth quarter, nearly 3.5 million SF of new construction projects were completed, bringing the tally for deliveries in 2014 to just shy of 10 million SF. More than 15.5 million SF remains under construction, with more than 1 million SF underway in the Southeast Wisconsin, I-80/Joliet Corridor, I-90 Northwest, I-55 Corridor, and O'Hare submarkets.
---
Suburban Office Absorption Outpaces Downtown in 2014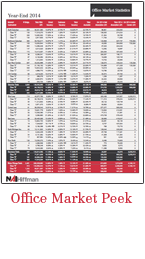 The suburban office market absorbed more space than Chicago's downtown market during all four quarters of 2014. During the fourth quarter alone, the suburbs absorbed nearly 590,000 SF, compared to only 24,000 SF in the Central Business District.

Over the course of 2014, the suburban office market absorbed just shy of 1.9 million SF of vacant space, nearly doubling the absorption recorded in the suburbs throughout all of 2013.
The suburban vacancy rate dropped by 132 basis points during 2014, ending the year with a 18.6% vacancy rate. This rate is 5.1% below the 23.7% peak rate recorded just over 4 years ago.

The downtown vacancy rate ended the year at 11.9%, a 57 basis point improvement over the course of 2014, and a rate 5.1% below the peak rate recorded in mid-2010.
---
For further information regarding the content of this market peek or if you are interested in attending a custom market overview presentation, please contact:

John Picchiotti | Chief Operating Officer, Brokerage
630 691 0608
jpicchiotti@hiffman.com
Mentioned in GlobeSt and REJournals