October 2016
Third Quarter 2016 Market Peek
NAI Hiffman is pleased to present the Third Quarter 2016 Market Peek, a first look at the market statistics for the Chicago Metropolitan office and industrial real estate markets.

Industrial: Construction Deliveries Set to Outpace 2015
A total of 17.5 million square feet remains under construction in the Chicago market, with 7.2 million square feet of new supply scheduled to deliver by year-end. Contributing to this quarter's nearly 5.6 million square feet of new supply was 3M's 987,120 square foot build-to-suit in DeKalb. If all projects are completed as scheduled, including Batory Food's 678,000-square foot distribution center in Wilmington, new construction deliveries in 2016 will be over 20 million square feet for the first time since 2008.
Overall vacancy continues to decline. Nearly down a full percentage point, the 6.51% vacancy rate is the lowest recorded since the recession. Positive absorption of 12.3 million square feet was recorded third quarter, indicative of a robust industrial market.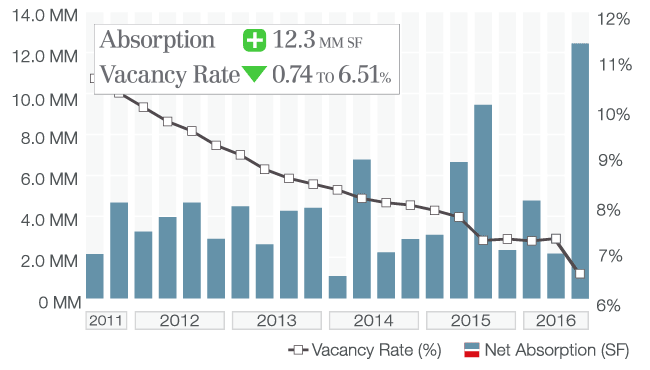 Office: Downtown Moves Take a Toll on Suburbs
SUBURBS
The North and Northwest Suburban submarkets recorded positive absorption during the third quarter, while the East-West and O'Hare submarkets have been impacted by companies migrating downtown. Negative absorption was recorded in the East-West Corridor for the first time since the first quarter of 2015 due to ConAgra, Unilever and Centrad Healthcare vacating large blocks in the western portion of the submarket.
Following significant leasing activity in the second quarter, only one new lease larger than 50,000 square feet was signed during the third quarter as Wilton Industries committed to 86,111 square feet in Naperville.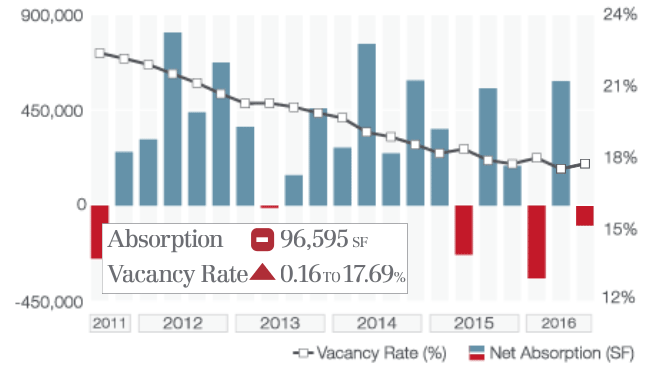 CBD
The downtown office market bounced back after a lackluster second quarter with over 700,000 square feet of positive absorption. Notable moves included Motorola Solutions occupying more than 150,000 square feet at 500 W Monroe and WeWork taking occupancy of 112,000 square feet at 125 S Clark St and 104,000 square feet at Google's old headquarters, 20 W Kinzie St.
Suburban exits to downtown Chicago continue as Wilson announced that they will be the next company to follow suit in moving their headquarters downtown. The sporting goods company signed a 12-year lease at 130 E Randolph St and will vacate more than 100,000 square feet in the O'Hare submarket by late 2017.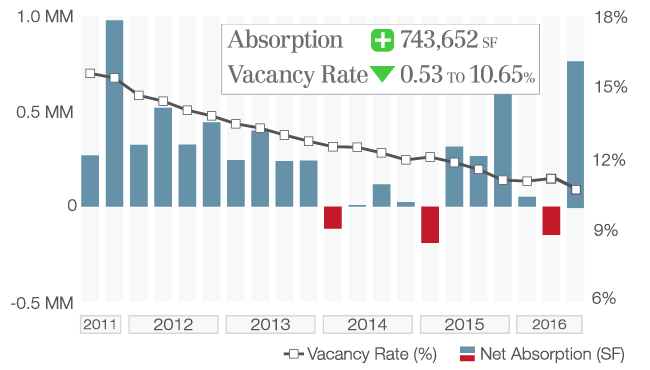 ---
For further information regarding the content of this market peek or if you are interested in attending a custom market overview presentation, please contact:
Amanda Ortiz
Senior Research Manager
630.693.0645
aortiz@hiffman.com