October 2013
Event: The State of Transportation & Logistics
NAI Hiffman's Adam Roth, Executive Vice President with NAI Hiffman's industrial services group and Industrial Services Director of NAI Global Logistics, participated in "The State of Transportation & Logistics" panel at the Chicago Industrial Properties Industrial Real Estate & Trans-Logistics Summit this morning at the Crowne Plaza Chicago (O'Hare). NAI Hiffman has summarized this conversation from the event.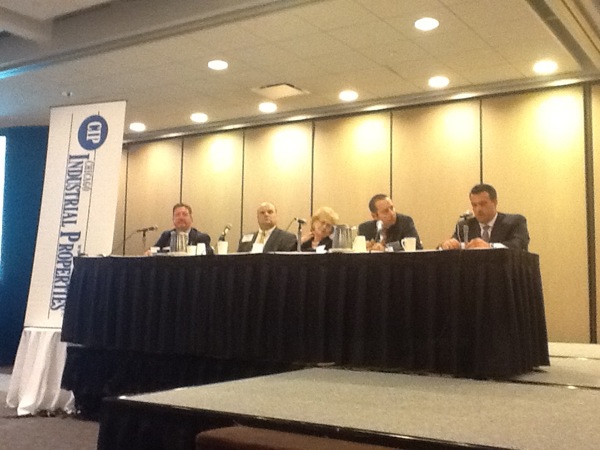 Panelists included:
Moderator: John Greuling – President & CEO, Will County Center for Economic
Development
Elise Couston, SIOR – Executive Vice President, Paine/Wetzel TCN Worldwide
Brian McKiernan – Senior Vice President, Development, CenterPoint Properties
Adam Roth, CCIM, SIOR – Executive Vice President, Industrial Services Director,
NAI Global Logistics
Eric Voyles – Vice President of National Business Development, Rockford Area
Economic Development Council/I-39 Corridor Association
Don Koliboski – Director of Economic Development, Northwest Indiana Forum
10:35 a.m. – Greuling: Logistics has become a major player in the Chicago market. Building, investment and job creation is alive and well in that part of the market. What are you seeing in the logistics sector today. Not only in terms of development, but also in terms of users in Northeastern Illinois.
10:36 a.m. – Roth: I'm seeing the average user size getting a little smaller. A few years ago everyone was talking about Walmart, but in this room today Amazon has been mentioned far more times than Walmart. People see rates and complain about them, saying "this guy got a good rate or a bad rate", but it's not about rates in today's market. Right now transportation spending is 10 times that of rent, in a few years it will account for 15 times of a company's spending vs. rent.
10:39 a.m. – McKiernan: One trend we're seeing is retailers, importers and exporters looking to consolidate their operations. Many of these companies have moved into multiple buildings in various submarkets over the past 10 years or so. These companies are now starting to condense down into campus settings, similar to Walmart and Home Depot. Another trend we're seeing is what's called supply-chain robustness. Retailers don't want to be tied to one mode of transportation. Users are now looking to use domestic intermodal, over-the-road, international intermodal, and now barge transportation options.
10:43 a.m. – Greuling: One of the questions that has been mentioned here this morning is how do we better utilize our logistics capabilities to better serve the more traditional manufacturing industry? America is still a major manufacturing player and will continue to be going forward.
10:45 a.m. – Voyles: Everything that makes us a tremendous location for distribution makes us an even better place for manufacturing. Every company that did survive the recession are now likely considered globally competitive. They found way to move their product and suppliers during a down market when most companies could not survive. As we come out of the recession, what we have in terms of a logistics infrastructure becomes even more important to these companies. Companies looking for a place to expand are finding that the overall Chicago market, which includes Northwest Indiana, Southeast Wisconsin and the I-39 Corridor, offers many advantages including a solid labor market and existing logistics infrastructure.
10:47 a.m. – Couston: I believe that Chicago will continue to be a hub because we are the third largest population center in the country. We will continue to see building being built with higher clear heights, more multi-channel facilities, larger bay sizes, more trailer parking, more secure buildings, and more custom build-to-suit projects because many of the existing facilities are just no longer functional going forward.
10:49 a.m. – Koliboski: Chicago will continue to be a major center for manufacturing and distribution of product. In Northwest Indiana we see ourselves as an eastern suburb of the city of Chicago. Business continues to expand in Northwest Indiana and now there is a lot of discussion of the Illiana Expressway connecting I-65 and I-55. We have been very focused on trying to create a good business climate and continue to attract businesses to our market that didn't traditionally look at Indiana as an option.
10:51 a.m. – Greuling: A couple of the issues that have been discussed this morning involve doing a better job of promoting our work force and the issue of government policy impacting location decisions for companies in Illinois. I've been with the center for economic development for 12 years, and some of the fiscal and government issues we're discussing today existed 12 years ago, but didn't have the spotlight on them that they have today.
10:52 a.m. – Couston: I think we all know at this point that Amazon has done 4 million SF in Indianapolis and is building more than 1 million SF in Southeastern Wisconsin. The challenge in Illinois involves the local tax structure, and will have to change before Amazon and other e-commerce companies decide to locate in Chicago. Just two weeks ago, the Illinois state supreme court ruled that what has become known as "The Amazon Tax Law" is unconstitutional, which hopefully opens the door for Illinois to become more competitive on a tax level for these companies.
10:54 a.m. – Greuling: One of the labor issues we're facing is that the skilled work force is getting ready to retire or is currently retiring. Replacing these workers with a skilled younger work force is becoming more and more of a struggle, even more so than a few years ago.
10:55 a.m. – Voyles: We're working with our manufacturing base to determine where those gaps and issues are. We've started a fast-track training program called TechWorks that puts certified machinists on the floor within 8 weeks. Another program, called the Joint Institute for Engineering and Technology, starts with marketing at the high school level in the Rockford Public School system to let the students know there are internships available in the aerospace industry so we can build local talent instead of recruiting from outside the area.
10:58 a.m. – Greuling: I believe that our ability to attract skilled labor for not only these manufacturing jobs, but also for some of these higher-end logistics jobs is going to be critical to our future. There have been great examples of companies locating to Will County, an example being Centrella Foods relocating from Franklin Park. Home Depot has been another example of a company looking to draw on the labor force in the south and southwest suburbs.
11:00 a.m. – McKiernan: I don't see manufacturing coming back as we traditionally think of manufacturing. I think logistics jobs will continue to expand, however. I do think Amazon will be in Chicago shortly – you can see them expanding throughout every major market in the country, eventually they have to make their way into the local market.
11:02 a.m. – Greuling: Large-scale manufacturing in the Midwest that we have historically seen is probably a thing of the past. A lot of the expansion in manufacturing that we're seeing are the smaller or mid-sized manufacturers that survived the recession. These companies, instead of having one or two customers that they rely on to keep their doors open, now have 10 or more customers that they work with.
11:03 a.m. – Voyles: The type of growth that we're seeing in manufacturing locally is among higher-skilled manufacturing jobs in advanced manufacturing instead of the historically typical low-skill manufacturing jobs that continue to leave the Chicago market.
11:04 a.m. – Roth: Globally, a couple years ago when the Panama Canal expansion was heating up, a lot of people were saying that it would be a supply-chain gamechanger, while the Panamanians were saying that wouldn't be the case. Logistics will always be population-based. The railroads based on the west coast won't simply see their business go away due to the expansion of the Panama Canal, but there will be winners on the east coast. A more local trend I'm seeing is that companies are starting to re-approach Cook County because of the access to population it offers which far outweighs the cost differential caused by higher taxes.
11:10 a.m. – Greuling: Looking ahead, what do you see changing and are the buildings we're building today going to be adequate for the users we work with 10 years from now?
11:11 a.m. – McKiernan: I see users continuing to move towards more functional buildings. Clear height and car parking are becoming more and more important to users, although I don't think the 36′ clear heights necessarily make sense in the Chicago market. We'll continue to see companies consolidate their operations into more functional buildings. We might not see substantial rent growth, but it will become more of a landlord's market.
11:12 a.m. – Couston: We will continue to see redevelopment of functionally obsolete facilities in the major markets like O'Hare. I expect to see slow and steady growth over the next few years.
11:13 a.m. – Koliboski: One of the critical points going forward will revolve around the work force. We need to start in the high school and middle schools to develop the skill sets necessary for a skilled work force.
11:16 a.m. – Roth: There is a natural lag in commercial and industrial real estate development. Over the next 10 years, the growth is going to happen where the infrastructure investments are happening. We've found that wherever these logistics companies are going today, you will find real estate development arrive there in about two years. It used to be that if anything is travelling over 1,000 miles, you want to put it on a train. Now that has shifted to anything over 500 miles, you probably want to look at putting it on a train, which is about how far a truck travels in a day. We will continue to see companies looking at rail to solve their transportation issues. Customized build-to-suit facilities and large campus facilities will become more and more popular over the coming years as tenants have more specific requirements to service their clients. If a building won't work operationally, it doesn't matter how low your asking rate is, that user won't consider it.