November 2014
Event: Chicago Industrial Properties' Chicagoland Real Estate Trans-Logistics Summit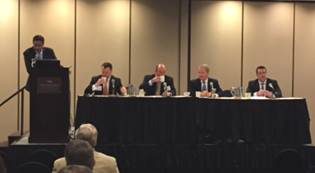 On Wednesday, November 12th, Chicago Industrial Properties hosted its Chicagoland Real Estate Trans-Logistic Summit at Crowne Plaza Chicago O'Hare Hotel & Conference Center, discussing the state of the industrial market, investment strategies in the marketplace, and the return of development and construction. NAI Hiffman's Chris Gary emceed the event and NAI Hiffman's Dan
Leahy participated in the first panel discussion, which is summarized below.
State of the Market Panel:
Dan Leahy – Executive Vice President, NAI Hiffman (moderator)
Adam Moore – Regional Manager, First Industrial Realty Trust
Donald Schoenheider – Vice President, Liberty Property Trust
Brian McKiernan – Senior Vice President, Development, CenterPoint Properties
Leahy – How has each of your companies evolved over the past 24 to 36 months, and what is your strategy going forward?
Moore – First Industrial is a publicly traded REIT and all but one of our properties is wholly-owned by the REIT. We have one property in a legacy joint-venture fund which is winding down, and we have plenty of excess capital. Going forward we are looking at targeted sales in markets where we want to redeploy assets, and acquisitions and development in markets that we see growing.
Schoenheider – Liberty is also a publicly traded REIT. Over the past three to five years the company has gone through substantial changes as about 60% of our NOI was generated from office and high-finish flex, and only 40% from industrial. Today that has changed nearly 180 degrees as we are at 62% NOI from our industrial, 30% office, and the balance from urban office product. Today our big challenge is we have a lot of money sitting on the sidelines and are trying to figure out what to do with it. We are active on the development side, and currently have an industrial pipeline totaling about $450 million over multiple markets.
McKiernan – CenterPoint Properties is a private REIT, and a subsidiary of CalPERS. CenterPoint has traditionally been focused on Chicago and its core industrial product. Our change over the past couple of years has been taking what we have done here in Chicago, in terms of development, logistics, and investments, and implementing those strategies nationally since we have seen what success Chicago has brought us.
Leahy – Although trends are currently positive, it still feels fragile out there in the market. What are you seeing from a company-wide stand point, nationally, and locally here in Chicago?
Schoenheider – I think we would agree with you. What we saw coming out of the recession was a dramatic activity burst from companies looking to tighten down their supply chain to squeeze every last nickel. That resulted in bigger building activity in 2012 and 2013, which has since slowed. The downside is we are no longer seeing the demand from bigger users looking to absorb 500,000 SF to 1 million SF buildings, but the good news is we are not getting ahead of ourselves with speculative construction in every major market.
Leahy – What type of customer are you seeing most active?
McKiernan – We're seeing a lot of activity from the third-party logistic providers. We are getting more term out of those guys as they take a more strategic approach in core markets.
Download the complete recap here.