November 2016
NAI Hiffman wins 2016 NAIOP Industrial Broker Transaction of the Year & Property Management Firm of the Year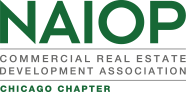 NAI Hiffman is proud to announce it took home awards for Industrial Broker Transaction of the Year & Property Management Firm of the Year at last night's NAIOP Chicago 29th Annual Awards for Excellence ceremony.
Industrial Broker Transaction of the Year
Dan Leahy and Adam Roth were honored as winners for Industrial Broker Transaction of the Year, representing CenterPoint in its Mars/Wrigley transaction at 4005 Cedar Creek Drive in Joliet. This large and complex transaction was the result of Mars/Wrigley's efforts to consolidate warehouse operations nationally to improve efficiency and distribution capabilities. CBRE performed a regional search of existing and built-to-suit options and was able to determine quickly that Chicago provided the best location for the combined warehouse and that a built-to-suit facility would offer the best efficiency. The eventual site at CenterPoint Intermodal Center was chosen for its access to rail lines, proximity to skilled labor and high quality, established infrastructure. The 1,380,000 SF state-of-the art warehouse facility is currently under construction and set to deliver in early 2017. Traci Buckingham Payette and Michael Mullady of CBRE represented the tenant on the transaction.
Property Management Firm of the Year
NAI Hiffman's Management Services group's third party assignments have grown from 6.4 million SF in 2006 to 54.4 million SF of industrial, office and retail assets today. NAI Hiffman saw a major jump in growth this year with new clients and significant expansions with existing clients. In just the first 6 months of 2016, NAI Hiffman took over management of 100 new assets totaling over 17 million SF from new clients as well as repeat business from long-time clients. With the rapid growth to its management portfolio and team, every asset continues to get the same unparalleled attention to detail. NAI Hiffman prides itself on delivering the best service for its clients and tenants, while staying true to the saying, "trusted to do what we say we will do."
Congratulations to all finalists and winners and a huge thank you to all of our valued clients, partners, and employees – we couldn't do it without you!