December 2015
NAI Hiffman represents owner in bringing Bannockburn Corporate Center to 91% occupancy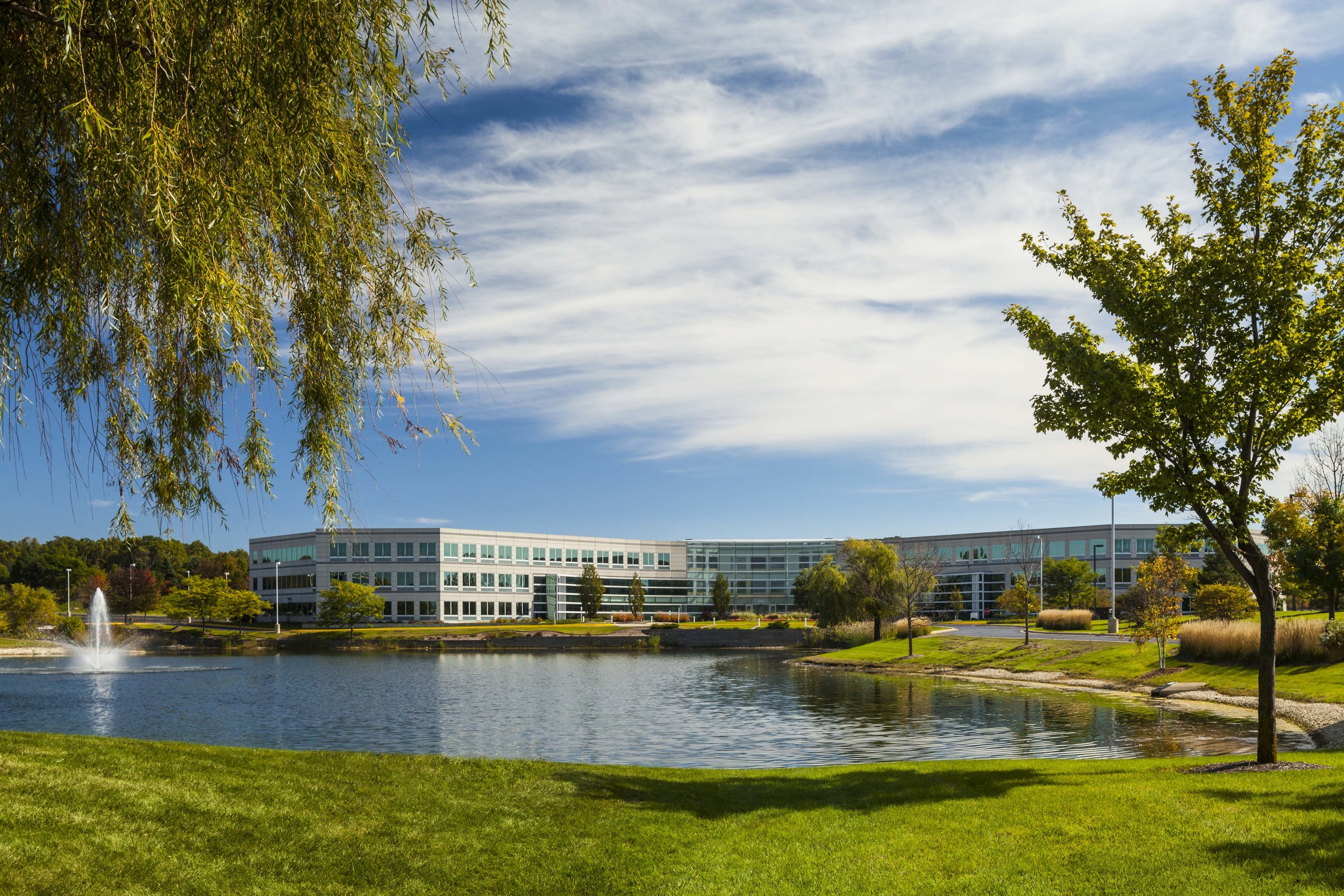 BANNOCKBURN, ILLINOIS (December 3, 2015) – NAI Hiffman is proud to announce three transactions recently completed at Bannockburn Corporate Center that have brought the 206,000-square-foot office asset from 38% occupied since the firm took over leasing and management in August of 2014, to a stable, 91% occupancy today.
Donlen Corporation, a Hertz Company, signed a new lease for over 70,000 square feet; another tenant, a healthcare company, signed a lease for over 47,000 square feet. Concurrently, Parus Holdings, a communications technology company dba Webley, will be relocating to 4,800 square feet within the building. With the completion of these three transactions, only 4 suites remain available ranging in size from 2,000 to approximately 8,000 square feet.
"Bannockburn Corporate Center is a premier, Class A office asset in a great location within the North Suburban submarket. It has been a tremendous project to work on, and we are thrilled by the rapid increase in interest and leasing results," said Linda Garske, Senior Vice President with NAI Hiffman's Office Services team. Garske is a member of NAI Hiffman's North Suburban office team which has experienced great success in reintroducing assets to the marketplace and accelerating leasing results.
Bannockburn Corporate Center, located at 3000 Lakeside Drive in Bannockburn, Illinois, is a 3-story, institutional quality office building in the North Suburban Office submarket within Lake County. The building is situated in a campus-like setting, with abundant trees and a scenic pond along the entrance. Bannockburn Corporate Center offers immediate access to Half Day Road and I-94 and is in close proximity to area hotels, restaurants and health clubs. Attractive building features include underground, executive parking; a modern atrium lobby with abundant natural light; pristine landscaped grounds, full service deli, and on-site NAI Hiffman property management.
Michael Flynn and Linda Garske, with NAI Hiffman's Office Services group, represented 3000 Lakeside Drive in all three transactions. John Conerty and Eric Feinberg of Savills-Studley represented Donlen Corporation; Mike Webber of Advocate Commercial represented the healthcare company; and Steve Schneider of DTZ represented Parus Holdings.
About NAI Hiffman
Comprised of over 150 real estate professionals, NAI Hiffman provides leasing, management and investment sales representation for owners and occupiers of commercial real estate in the Chicago metro market. It currently leases and manages a 47+ million SF portfolio of over 500 commercial properties throughout metropolitan Chicago, Northwest Indiana and Southeast Wisconsin. NAI Hiffman is the Chicago-area representative for NAI Global, the world's largest managed network of real estate service providers, has more than 375 offices strategically located throughout North America, Latin America, Europe and Asia Pacific, with over 6,700 local market professionals, managing over 380 million square feet of property.
Mentioned in GlobeSt, and the Daily Herald Business Ledger