March 2013
Oak Brook Chamber holds annual meeting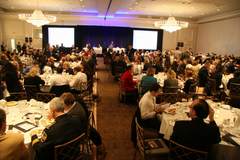 OAK BROOK — The Greater Oak Brook Chamber of Commerce is urging businesses to join forces to push for accountability in the state legislature.
Incoming Chairman John Hrudicka made the push during the 2013 Annual Meeting & Awards Breakfast.
"We need to have high energy and a conviction in doing what is right," Hrudicka said.
The Annual Meeting included an overview of the Chamber's work over the past year, including Oak Brook and Oakbrook Terrace municipal reports and state legislative updates, presentation of the Chamber's new board and committee leadership, and a keynote presentation on leadership by Dan Goodwin, chairman and chief executive officer of The Inland Real Estate Group of Companies.
Other new directors include Vice Chairman Joe Endress, McDonald's Corporation; Treasurer Gregg Horan, Gibsons Bar & Steakhouse; Secretary Brian Rady, Redbox; Brian Baer, Dominick's Finer Foods; Suzanne Beres, Oakbrook Center; Cathy Bushman, Tiffany & Co.; Krystal Glispie-Hyatt Lodge, Oak Brook; Paul Grande, Hiltons of Oakbrook; Kathy Hardy, Leaders Bank; Dan Hemmer, CenterPoint Properties; Dennis Hiffman, NAI Hiffman; Reggie Karas, Millennium Trust; Tom Midura, Graycor; Matt Miller, Mesirow Financial; Michael Millhouse, BridgePoint Technologies; Matt Mulvihill, Reel Club; John O'Halloran, ComEd; John Ropski, Printing Arts; Christine Rybicki,Advocate Health Care; Martin Schooley, Marriott,; and Dan Wagner, Inland Real Estate Group.
The Chamber also presented the Breaking the Glass Ceiling Award to The Inland Real Estate Group of Companies, Inc. for encouraging and promoting an environment that facilitates the unlimited growth and advancement of woman.
The Investing in People Award was presented to Northwestern Mutual Oak Brook for outstanding leadership in growing and developing its most important product — its people.
The Work Hard Play Hard Award was presented to SWC Technology Partners for outstanding leadership in encouraging and promoting high work performance in a happy, healthy and fun atmosphere.
The Teamwork Award was presented to the Hyatt Lodge for outstanding leadership in promoting and nurturing a positive team environment at every level of the organization.
Source: The Doings Oakbrook