April 2017
First Quarter 2017 Market Peek
NAI Hiffman is pleased to present the First Quarter 2017 Market Peek, a first look at the market statistics for the Chicago metropolitan office and industrial real estate markets.

Industrial: Strong Absorption Continues to Tighten Vacancy Rates
The vacancy rate for the Chicago industrial market measured 6.25 percent at the close of the first quarter of 2017, 95 basis points lower than the recorded rate at the beginning of 2016. Since reaching its peak of 12.10% at the height of the recession during second quarter of 2010, the vacancy rate has continually dropped, declining 585 basis points over the seven-year span.
For the third consecutive quarter, the industrial market absorbed more than 5.5 million square feet. Seven large corporate tenants including LASCO Fittings, thyssenkrupp, and Nealey Foods, each took occupancy of more than 100,000 square feet during the first quarter, contributing to over 1.1 million square feet of positive absorption alone.
Nearly 1.1 million square feet of new construction broke ground during the first quarter, including Venture One's 276,000-square-foot build-to-suit for WeatherTech, Inc. in St Charles and ML Realty's 181,011-square-foot speculative facility located in Lockport. Of the just under 17.0 million square feet of construction underway, 45 percent is being built on a speculative basis. If this speculative product is delivered vacant, a jump in the vacancy rate could be experienced in the coming quarters.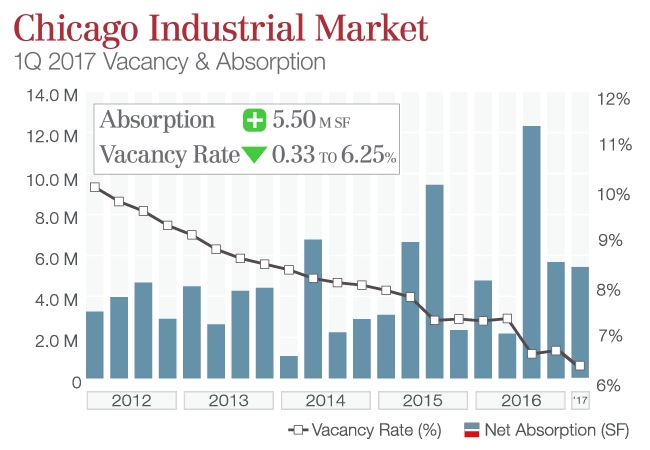 Office: Suburban Market Stabilizes; CBD Construction Causes Vacancy Uptick
SUBURBS
The vacancy rate for the suburban office market measured 19.13 percent at the end of the first quarter. Four out of five submarkets experienced a dip in overall vacancy, while the North Suburban submarket saw an increase due to existing tenants downsizing or giving back space.
The suburbs experienced an increase in leasing activity as three new leases greater than 50,000 square feet were signed during first quarter. Old World Industries committed to 160,000 square feet in Northbrook, First Midwest Bank committed to 70,000 square feet in Chicago, and National Express Corp. committed to 54,000 square feet in Lisle.
CBD
The downtown office market reported 629,957 square feet of positive absorption with an uptick in overall vacancy as another trophy asset was delivered first quarter. Construction on 150 N Riverside Dr was completed, bringing 1.3 million square feet of Class A space to the market. The new West Loop tower is 81.7 percent leased with William Blair & Company set to occupy more than 300,000 square feet later this year.
Notable leases signed during first quarter included Outcome Health committed to 400,000 square feet at 515 N State St, PPM America, Inc. signed a renewal/expansion for 101,000 square feet at 225 W Wacker Dr, and the National Restaurant Association committed to 51,000 square feet at 233 S Wacker Dr.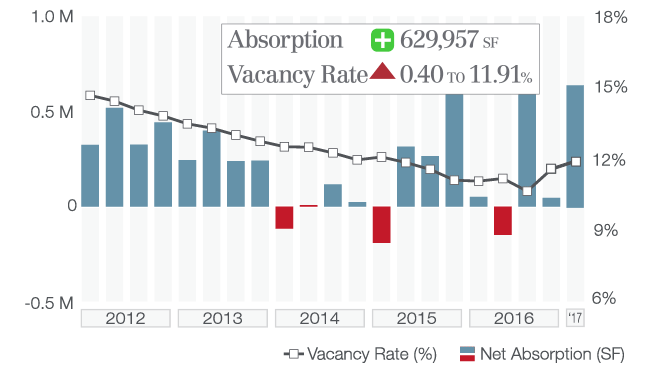 For further information regarding the content of this market peek or if you are interested in attending a custom market overview presentation, please contact:
AMANDA ORTIZ
Director of Research
630.693.0645
aortiz@hiffman.com