March 2014
NAIOP Chicago | What Investors Are Looking For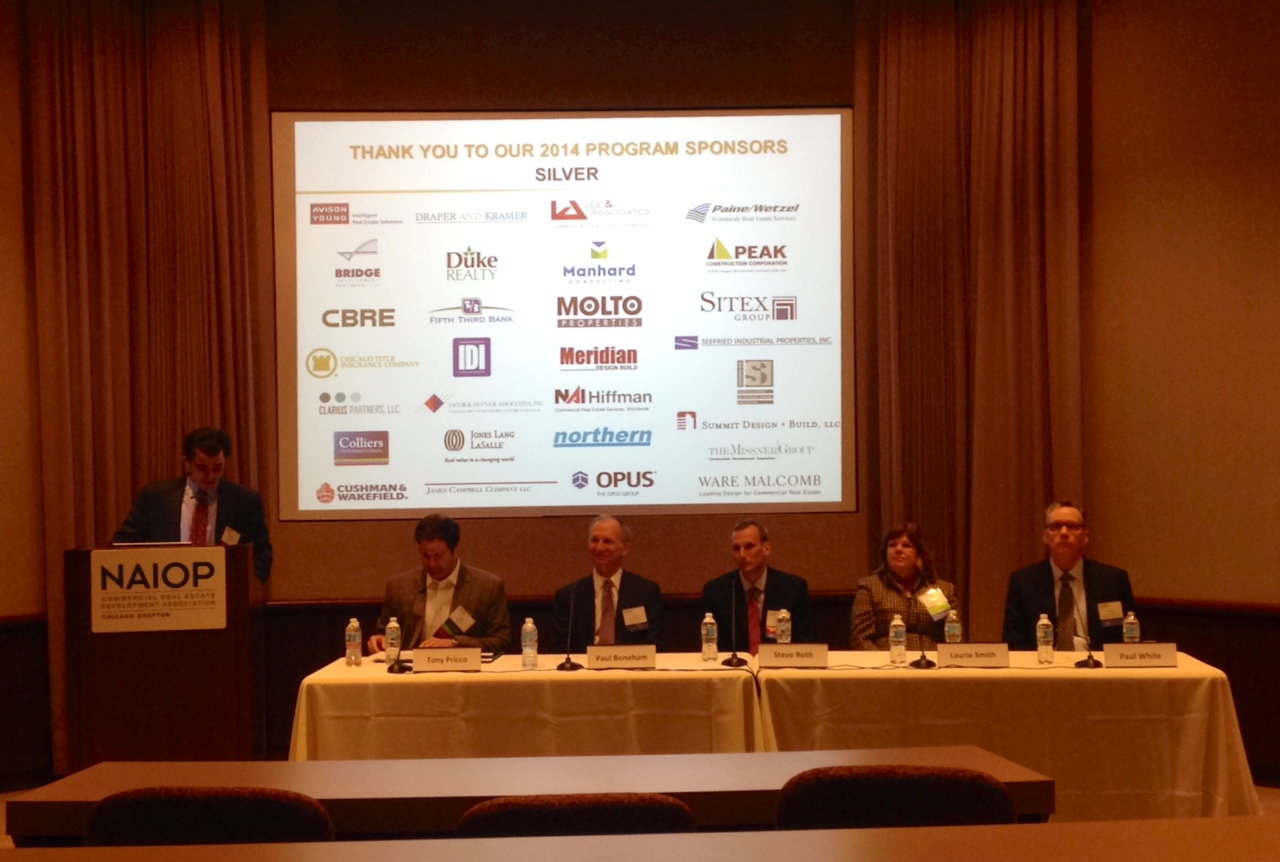 On Thursday, March 20th, Tony Pricco, Principal with Bridge Development Partners, LLC moderated a panel discussion on current trends in the debt and equity markets and what today's institutional investors are looking to buy. Panel members included:
Paul Boneham – Executive Vice President, Bentall Kennedy
Steve Roth – Executive Vice President, CBRE
Laurie Smith – Principal, Blue Vista Capital Management, LLC
Paul White – Managing Director, LaSalle Investment Management, Inc.
Pricco – We're seeing things getting fairly frothy again in the industrial market. It's been reminiscent of 2007 again, but then came 2008. What are each of you seeing as far as trends? Is it still core, core-plus, then everything else or are we starting to reach into secondary and tertiary markets and class "B" and "C" buildings? What are you investors looking for as far as yield versus risk profile?
White – I'd say investors are looking for all of the above. There seems to be as much capital as there was during the latter part of the last cycle, but there seems to be less product available for sale because there is less development going on. Where we're seeing the most capital and the most activity has been in the major coastal markets and the major inland markets like Chicago and Dallas for class "A" buildings. Pricing has returned to the levels seen in 2006 and 2007, and in some cases it has exceeded those prices.

Roth – There's no question that there's a tremendous amount of class "A"-quality product coming to the market, and there has been a tremendous amount of capital and demand for that product type. The bigger question that has been in everybody's minds over the past year or two is whether institutions will go into a market and buy class "A" product, or will they buy class "B" product. What we're seeing right now is the institutions buying the class "A" product in a primarily class "B" market, instead of them buying class "B" product in what's considered a class "A" market.
Click here to download our full summary.