March 2014
Ideal Expands on City's South Side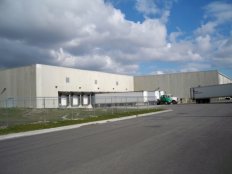 Ideal recently signed a new lease with Silver Beauty for 177,413-square-feet of industrial space at 5800 West 51st St. on Chicago's southwest side, a submarket that has seen a lot of recent activity. Ideal, a privately-held manufacturer that specializes in point-of-purchase merchandise displays for many brands, will use the space as an additional distribution warehouse to complement its existing headquarters at 4800 South Austin Ave.
"Ideal is growing very quickly and we continually invest in new infrastructure to be the best possible combination of service, price and quality," says Ideal chief operating officer Yale Eisen. "By increasing our warehousing space, we have the flexibility to accelerate our growth by further increasing our core facility's engineering and manufacturing capacity."
Prior to Ideal's lease, Graham Packaging, a manufacturer of blow-molded plastic containers, occupied 350,000-square-feet at the complex. Graham needed to consolidate its operations and was searching for a tenant to sublease some of its space.
"The lease-buyout between Ideal and Graham Packaging was a success that greatly benefited both sides in this transaction," says Larry Much, an executive vice president with NAI Hiffman's industrial services group. Much represented Ideal in the new transaction. Sally Macoicz of Cushman & Wakefield represented Silver Beauty, a Chicago-area company that builds and leases warehouses.
The submarket put up solid numbers last year. According to a recent Colliers report on the metro area's industrial market, tenant demand was strong on the city's south side, with leasing activity totaling 1.4-million-square-feet. "This was a notable improvement from the 1.2-million-square-feet leased in 2012," the report notes. Furthermore, "heightened user demand in Chicago South drove the cumulative net absorption to 1.1-million-square-feet in 2013. This was an impressive improvement from the 140,900-square-feet posted one year ago."
Source: GlobeSt
Mentioned in RE Journals
Also mentioned in Bisnow