March 2016
NAI Hiffman: Chicago Retail Update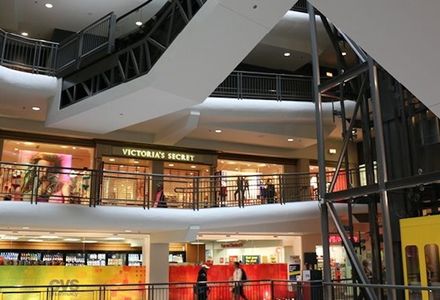 Retail is playing a whole new ballgame these days, and not just because of the rise of e-commerce. NAI Hiffman broker Jana Foreman tells us retail centers like The Century (pictured) are no longer seeking only traditional tenants. Unconventional tenants like medical office users are now seeking properties that offer storefronts, more visibility and a tenant mix that marries well with their use. Jana adds that Roosevelt Collection's second-floor space sat unoccupied until new ownership adapted to the trend, with medical use and co-working office tenants: Northwestern Medicine took 21k SF and Regus occupied 17k SF.
There are a limited number of vertical malls in Chicago and even fewer that have undergone a redevelopment into mixed-use. However, there are two city projects, larger in scale compared to The Century, that have garnered some good traction:
Block 37 – Chicago's newest vertical mall attraction, 108 N State, across from Macy's and surrounded by top-end retailers. Below the five-level retail development is a four-level, below-grade concrete basement that provides space for retail, parking and transit. An adjoining office tower, 22 W Washington, is home to Morningstar Inc, the financial services company, occupying nearly 300k SF, and CBS, leasing 116k SF in addition to other office tenants.
Sullivan Center – a multi-use office, educational and retail complex; LEED-certified with a complete renovation of all major systems and historic elements. The lower level, first and second floors (200k SF), have been renovated into retail space and include CityTarget, DSW, Flat Top Grill and Carhartt. The upper floors (745k SF) were renovated into office and academic space; tenants include Walgreens e-commerce sector, IL Department of Employment Security, School of the Art Institute of Chicago and Gensler Architecture. Three unique lobbies provide office access to the project; on the west at 33 South State, on the north at 11 East Madison, and on the east at 36 South Wabash. The project's design allows for excellent flexibility for tenants who require as much as 70k SF on one floor or from 3k to 200k SF of contiguous space on multiple floors.
Source: Bisnow