April 2014
First Quarter 2014 Market Reviews
Industrial Vacancy Down to 8.3%, 9.8 MM SF Under Construction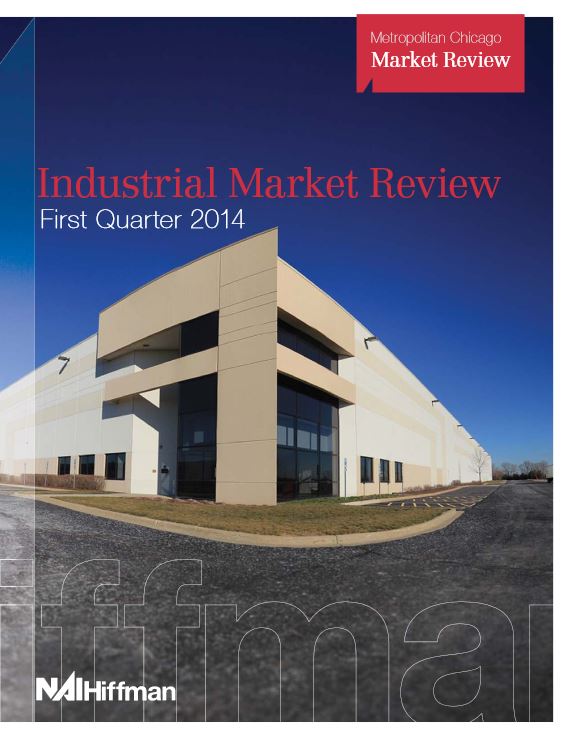 Positive demand continued for the fifteenth consecutive quarter in Chicago's industrial market, as net absorption totaled 1,078,078 SF during the first quarter, pushing the overall industrial vacancy rate down an additional 12 basis points to 8.3%. Over the past two-and-a-half years, the vacancy rate has dropped 3.8% from its 12.1% peak and more than 50 million SF of space has been absorbed through elevated leasing and user sale activity.

Construction activity continues to increase in the industrial market, as 33 projects totaling 9,752,796 SF are currently underway. About 28%, or just over 2.7 million SF, of the ongoing development is speculative. Of the 7.6 million SF of new construction projects expected to break ground over the next few months, 50% is speculative, suggesting that developers are feeling increasingly confident in the recovery.
Download the complete industrial review »
Absorption Positive for Suburban Office, Negative Downtown
Suburban Office Market Vacancy Rate: 19.67%
Net absorption in the suburban office market outpaced the downtown office market during the first quarter of the year, as it has done for six of the past eight quarters. Between January and March, 272,607 SF of vacant space was absorbed through continued leasing activity and user sales, pushing the vacancy rate down 21 basis points from last quarter to 19.67%, the lowest vacancy rate recorded in the suburban office market in more than five years.
Downtown Office Market Vacancy Rate: 12.49%
Absorption turned negative in the downtown office market for the first period in more than three-and-a-half years, as new vacancies outweighed the effect of continued leasing activity and existing office buildings that were converted to other uses. Over the course of the first quarter, the downtown vacancy rate remained essentially flat at 12.49%. The West Loop was the only downtown submarket to see solid activity during the first quarter, as 201,836 SF of vacant space was absorbed, pushing the West Loop vacancy rate down 44 basis points to 10.56%
Download the complete office review »
For further information regarding the content of these market reviews, please contact:
Craig Hurvitz | Director of Research
630 693 0645
churvitz@hiffman.com
If you are interested in attending a custom market overview presentation, please contact:
John R Picchiotti | Chief Operating Officer, Brokerage
630 691 0608
jpicchiotti@hiffman.com
Mentioned by RE Journals