June 2015
Sitex Picks Up Unique Suburban Industrial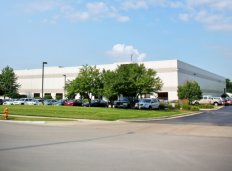 The Sitex Group, a private equity firm that specializes in industrial real estate, has just acquired an 87,219 square-foot warehouse and distribution facility located at 350 S. Church St. in suburban Addison. And Sitex principal Cary Goldman tells GlobeSt.com that this new addition to its portfolio is a "one of a kind product" that stands out from everything else in the submarket. The price was not disclosed.
"There are few existing buildings in all of Northeast DuPage County that feature the modern image and amenities of 350 South Church St.," he says. Addison is a mature market with inventory that mostly dates to the 1970's and 80's, but this building was originally built in 1995 and subsequently expanded in 2007.
Furthermore, the area has no available land for new construction and a vacancy rate hovering near 5%, he adds. The company expects that buildings like this "will see rent and value growth over the next several years" as tenants continue demanding facilities with a range of modern features.
350 S. Church St. includes a precast exterior, 13 exterior docks, 27' clear ceilings and T-5 lighting. It also offers 1-2,000 amp/480 volt service and 1-1,200 amp/480 volt electrical service – ideal for distributors or manufacturers, Goldman says.
But he considers the location its top-selling point. With proximity to I-55, I-290 and I-294, drivers can access the property from all directions. It also provides excellent visibility from Fullerton Ave., he adds.
NAI Hiffman's Kelly Disser and Dan Leahy represented the seller, Standfast Group, in the sale. Standfast will leaseback the facility for three months before moving to a new, 378,443 square-foot building in nearby Carol Stream.
Source: GlobeSt