July 2014
Second Quarter 2014 Market Peek
NAI Hiffman is pleased to present its Second Quarter 2014 Market Peek, a first look at the market statistics for the Chicago Metropolitan office and industrial real estate markets.
Suburban Office Vacancy Down 60 Basis Points to 19.07%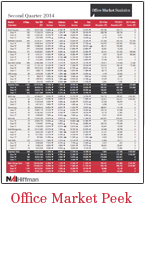 For the third consecutive quarter, net absorption in the suburban office market outperformed the downtown market. Between April and June, net absorption totaled 760,000 SF in the suburbs compared to only 7,600 SF absorbed in the downtown office market, where continued leasing activity was offset by new vacancies and the demolition and conversion of buildings.
The suburban vacancy rate decreased by 60 basis points during the second quarter to 19.07%, while the downtown vacancy rate decreased by 24 basis points to 12.25%. All five suburban office markets witnessed positive absorption during the second quarter. The Northwest Suburban office market absorbed the most vacant space since April, about 323,000 SF.

More than 2.5 million SF of new construction is underway in both the suburban and downtown markets, the most new development activity the office market has witnessed since 2008.
Industrial Market Absorbs 5.7 Million SF in Second Quarter
The industrial vacancy rate decreased by 20 basis points to 8.1% during the second quarter, a rate 60 basis points below where it was a year ago and a full four percentage points below its 12.1% peak.
Nearly 5.7 million SF of vacant space was absorbed between April and June through leasing activity, user sales and construction completions. This is more than five times the amount of vacant space absorbed during the first quarter and the highest quarterly tally since 2007.

Nearly 3.6 million SF of new industrial product was delivered during the second quarter, and almost 11.3 million SF of new construction projects are underway. Of that ongoing activity, 52% is speculative development, another 44% is build-to-suit activity, and 4% are companies adding onto their current buildings.
For further information regarding the content of this market peek, please contact:
Craig Hurvitz | Director of Statistics and Market Information
630 693 0645
churvitz@hiffman.com
If you are interested in attending a custom market overview presentation, please contact:
John Picchiotti | Chief Operating Officer, Brokerage
630 691 0608
jpicchiotti@hiffman.com