July 2016
Naperville Woods | Live, Work, Play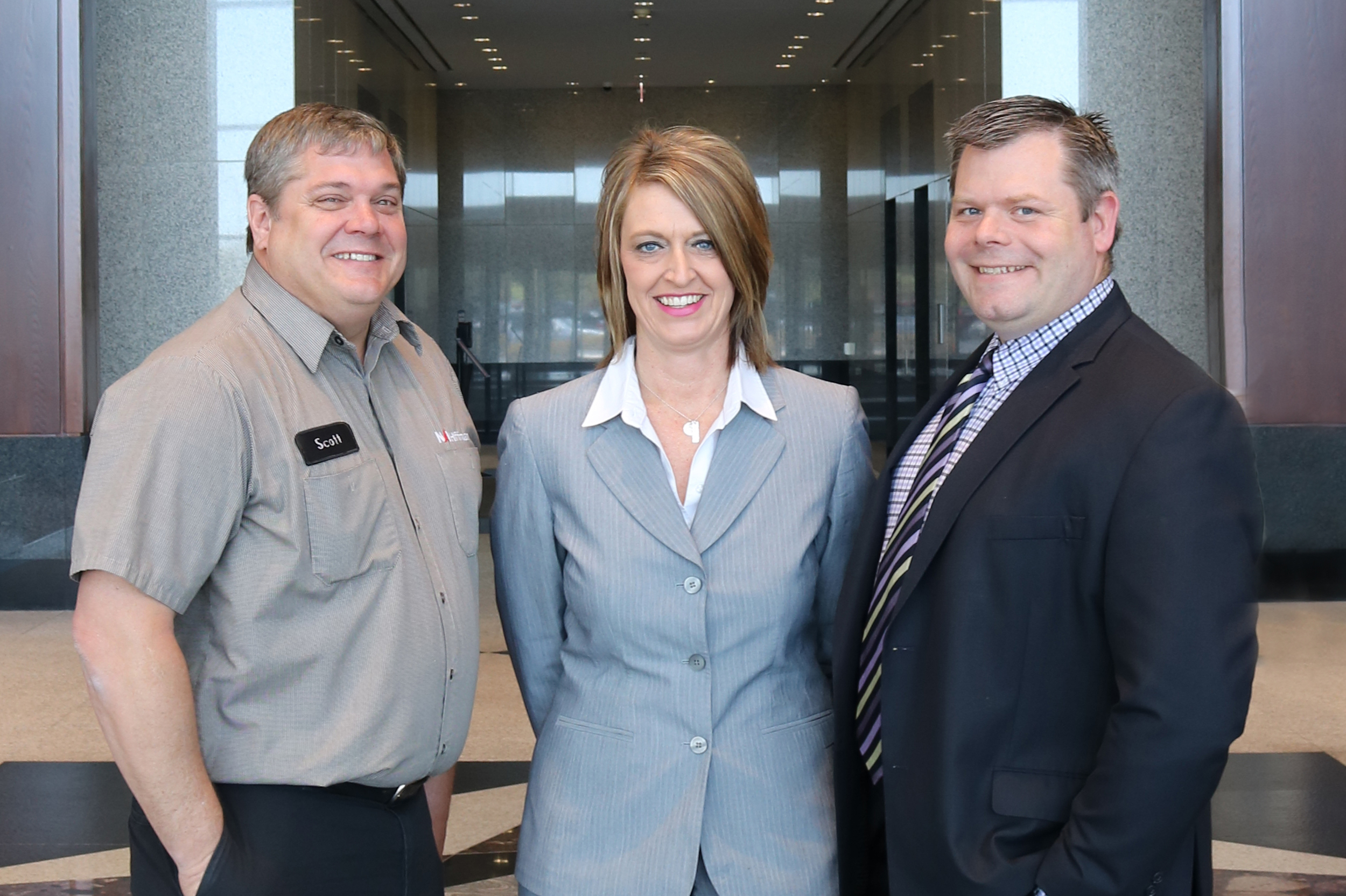 Featured in The Commercial Voice
Dee Collins: The theme for the front cover with NAI Hiffman is Live, Work and Play. Jen, can you begin to elaborate why that theme is so apropos for what you all do?
Jen Lewand: Work and life balance is very important for the Naperville Woods management team; this is what gives the Live part of that theme meaning. For Work, we have our ownership and many tenants that we take care of, whether it's during the day or after hours. We also work hand-in-hand with our leasing team. Regarding Play, our company's culture encourages collaboration and engagement with each other beyond our buildings. We enjoy company outings and celebrations together regularly.
Tom Murphy: We took over Naperville Woods leasing and management in August of 2014. I like to differentiate these two office buildings from the buildings we compete with by providing best-in-class amenities for our properties. A lot of people think immediately about cafeterias and fitness centers; our approach is more low-cost or no-cost amenities such as the onsite services our tenants can benefit from during the summer months. We have a Zagster bike share program similar to the Divvy system, but it's tailored to our property. We have done certain things that personify the "Play" portion. We saved operationally so that we can include some amenities, such as our concierge service. Having a concierge service in a suburban office project is uncommon; it's something you find in more of the downtown buildings. That really offers a personal touch to the decision makers of the building, as well as those that support their business effort — the employee base. We are coming up with options that distinguish us, but also make this a place where tenants are fully serviced. This year we begin offering onsite oil changes and car washes, so while tenants are working they have the benefit of completing a task they would normally do on the weekend or off days. This will allow them more time for themselves and families. Our goal is to make the best use of this time. I personally spend anywhere between 60 to 70 hours a week at work, and from my perspective the more time I have free to spend with my family gives me a better balance. By implementing these programs, we're trying to provide a better work/life balance for our tenants or at least an opportunity to achieve that.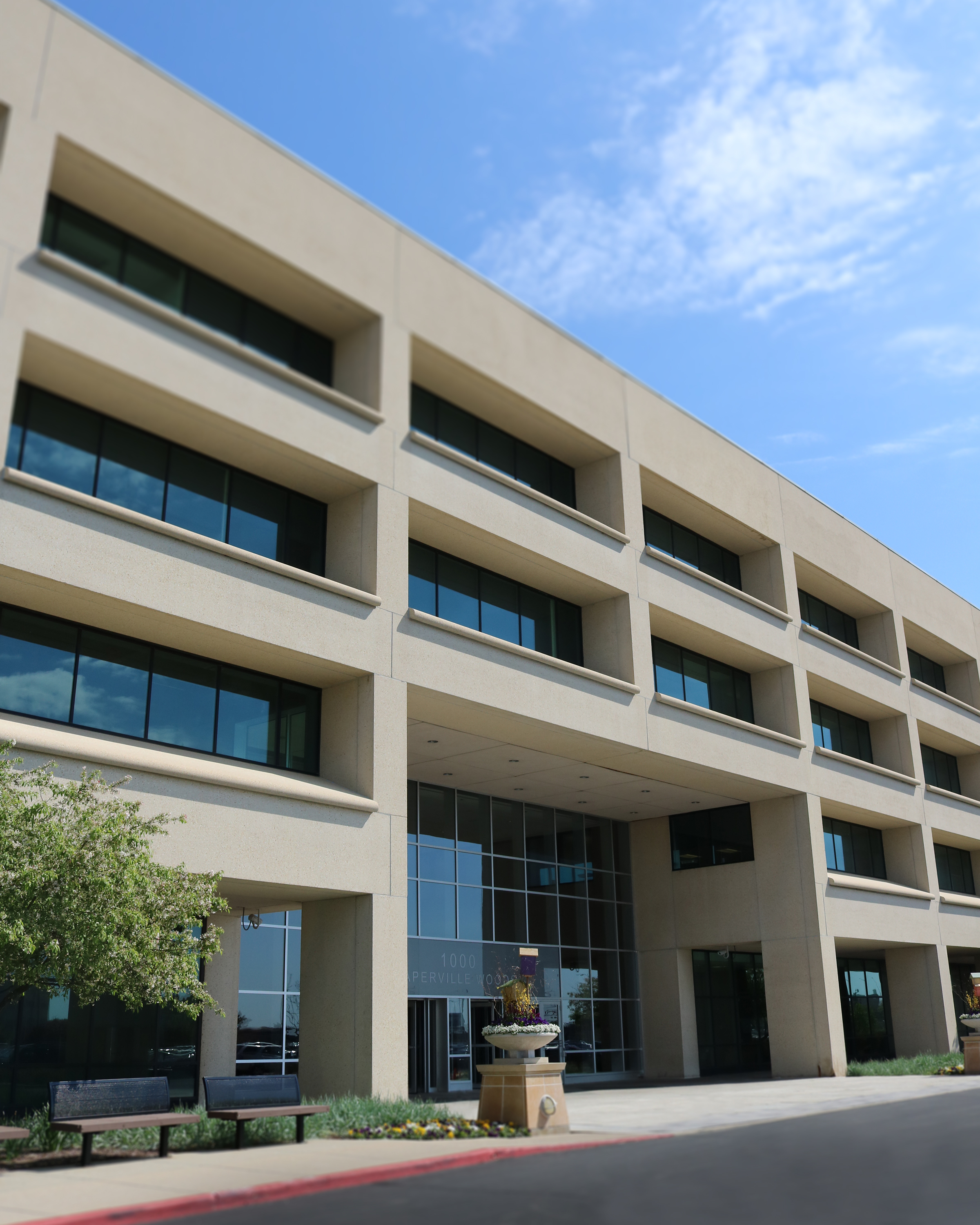 Dee: It sounds like you all are very tenant- centered. What is the "why" behind this culture, and how is that also inclusive of live, work and play?
Tom: NAI Hiffman's tenant-centered management approach is acknowledging that the rent roll is the building's value. Tenants generate income. If you can keep tenants happy they will stay. I think it surpasses that from our team's perspective. We're trying to promote a culture within the Naperville Woods property where it's a small community. For example, we did an Earth Week promotion, where tenants participated on a larger level with electronic recycling and on a smaller level with reminders to turn off their monitors and computers every night and how that impacts the environment. There are also other ways we have created that sense of community and have those touches even from an engineering perspective.
Jen: Another example is during the blooming plant rotation in the lobby; we host
a raffle each rotation and tenants get a chance to win the beautiful flowers. It always feels great to win something; it puts a smile on the employees faces. The events allow us to interact with those individuals that aren't necessarily those decision makers over the lease, but we want to know and interact with everyone.
Scott Wilson: Our engineering team's process of taking care of service calls, whether it's a hot/cold call or light bulb replacement, is excellent. We have a thorough follow up plan in which we talk with the tenants to really understand their issues; the communication piece is intentional. The goal is to make sure that everyone is happy, and those extra touches really add to the sense of community we strive to build.
Dee: Scott, can you elaborate on what Tom was saying from an engineering perspective?
Scott: We have a motto, which is "Talk to every tenant, every day." We are present and available and make an effort to continue the accessibility to our team. When we are in the corridors headed to perform work, we greet people we pass by, hold doors and even at times offer assistance to someone we may come across carrying many boxes.
Dee: All of this definitely requires a great team, and I want to say kudos! Jen, tell us about your team.
Jen: The Naperville Woods management team consists of Tom Murphy, Vice President/General Manager, myself, as Property Assistant, Scott Wilson, Chief Engineer, and our two Operating Engineers, Ed Justic and John Willis. We have contracted services for our onsite security and concierge service and our day and night janitorial staff. We work pretty closely with them on a daily basis being in constant communication about what is going on.
Dee: From a leadership perspective, what's next for this awesome team at NAI?
Tom: I think the appropriate way to answer that, Dee, is to say that we have some "tricks left up our sleeves." For the sake of others that read this, my recommendation is to ease into the amenities as you roll them out, not too much at once. Also, implement amenities that are sustainable. Sustainability doesn't just mean green and LEED, it means ongoing, perpetual, where you can preserve the momentum you had when you first rolled it out. Let's take the bike share program… the other day we did our spring launch, and we're sitting in our management office which has a great view so we get to see people ride by on our bicycles. It feels good to watch our tenants take advantage of services that make life better and more enjoyable for them. We are really pushing and challenging ourselves to do even more than what our competitive set is doing, and I am hopeful and optimistic that we will remain successful. We are evaluating the feasibility of a nice area in our fitness center for yoga, Zumba, or other types of classroom-led instructional fitness training.
Dee: Tom, I see why you work 60 to 70 hours a week; you have a lot going on over there at NAI! Is there anything you all would like to add as closing remarks?
Tom: One of the things that have made us successful is our team approach to ad-
dressing items that may come up out of left field, if you will. When the tenant base and occupants of the building know that we are listening to them, it speaks volumes. This is where we've gained our credibility, with respect to the folks that call Naperville Woods home for their place of business. The NAI Hiffman approach to managing properties is something we are very proud of and our clients and tenants appreciate the attention to details and high service standards.
Dee: That's outstanding. Thank you all for this opportunity to feature you all in The Commercial Voice Real Estate Magazine. Thank you NAI Hiffman, to all of your sponsors plus your great team for making this happen.
Click here to view The Commercial Voice's full Summer 2016 issue.