September 2014
NAI Hiffman's Karlson: Never Losing Sight of His Priorities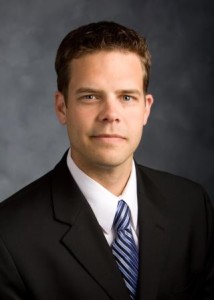 After college, Steve Karlson's father introduced him to his long-time friend, Mike Huff, who became a mentor to him for his career path.
Karlson took interest in his career and says Huff told him, "You really should start in property management to get your feet wet in all areas of the business." After that green light, Karlson reached out to a number of real estate companies and eventually found an opening at CBRE. Although he had to wait six months to fill the position, it was worth it, seeing as how it's 12 years later and he's still in the industry.
"I really enjoy the constant change in the commercial real estate industry," Karlson said, now Senior Property Manager at NAI Hiffman. "Whether it's operational, a swing in the market, chasing a transaction, or the complex day-to-day change in priorities, I enjoy finding solutions while servicing my clients, customers, and teammates. It's also rewarding to assist brokers in clearing obstacles to make transactions happen or to provide financial protection to a client by doing extra due-diligence."
Due to working in the Chicagoland area, what he really enjoys about commercial real estate is watching the deal flow change in each sub-market, "It can go completely silent in one area, but be very hot in another."
During his twelve years in the market, he's also learned to keep the first things first.
"There is so much going on in real estate between tenant deals, aging receivables, construction projects, financial reporting, and tenant conversations, that it's easy to get distracted and lose sight of what is the top priority. I've always aimed to align my goals with what the client and company finds most important, whether it's a lease or financial report."
At NAI Hiffman, Karlson provides direct leasing support and client oversight for over 11 million square feet. Although he's made tons of deals, one that stands out happened last year when he successfully expanded a tenant and renewed them for 10 years.
"The tenant was previously very discouraged with building operations, HVAC, and the communication of solutions that were being provided," he said. "The impetus was put on me to calm the tenant and help win the transaction. With assistance from our vendors and team, I was able to communicate the solution, show the landlord's commitment, and convince the tenant that their decision to renew was the right choice."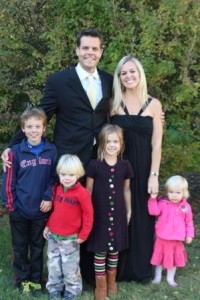 Karlson started working with NAI Hiffman's management team in 2006. Since then, he says the company's third-party assignments have grown from 6.4 million square feet to 56.6 million square feet today.
"It's been a pleasure to see NAI Hiffman grow into a preferred provider in the management services industry for many institutional, investment, and private firms who rely on our detailed reporting, extensive client service and ability to obtain and retain tenants through our integrated management and leasing platform."
He added, "We are nimble, entrepreneurial, experienced, and our management team seamlessly partners with our brokerage groups to provide the best possible solutions for our clients. It may sound simple, but we have grown to where we are today because we are trusted to do what we say we will do."
With all the passion he has for his company and commercial real estate, it isn't surprising that his biggest mentor is Dave Petersen, NAI Hiffman's CEO.
"When the office building I was managing was up for sale," he said, "I didn't know what to expect so I reached out to Dave. He said he was looking for my number as well because an opportunity had arisen and he thought I would be a great fit for it. Dave provided me with the opportunity to manage a size-able industrial park in Lombard and has coached me through my career to get where I am today, overseeing a great team on an 11+ million-square-foot industrial portfolio. Dave has been a great mentor, both professionally and personally to me, and I'm blessed to call him a friend."
Most recently, Karlson's team was awarded nearly 1 million square feet of new industrial product to manage and lease.
"We work extremely hard to earn repeat business from our current clients and we are thankful when we do. We also have been asked to manage and lease 1 million square feet of suburban office product in the past 90 days."
Also in the last year, NAI Hiffman's Management Services team has experienced great success, represented by over 30 new property management wins, and significant expansions with current satisfied clients.
"Our Management Services team at NAI Hiffman has been recognized for its new business growth and operational successes by being named the largest property manager by Crain's Chicago from 2009-2013, receiving the Greater Chicago Food Depository's nomination for Property Management Company of the year in 2013, and by winning four of six categories for the BOMA Suburban Chicago "The Outstanding Building of the Year" (TOBY) Awards last year."
Karlson's team is currently working to take over a building from a bankrupt freezer/cooler logistics company—a project that he's excited about.
"With the ammonia refrigeration equipment," he said. "The "warehouse" is a bit more complicated to operate during the downtime between tenants. It has been exciting to work with ownership, brokers, and vendors to position a unique building to be leased."
What's making him hopeful right now in Chicago is the leasing activity and transaction velocity being a bit more consistent this year.
"In smaller flex buildings there seems to be improving activity and deal flow which means the recovery may finally be reaching the small business market more broadly," he said. "Market-by-market vacancy rates are near at least 5 year lows. It will be clear that we have fully recovered when there is a clear uptick in institutional purchases of Class B and C assets."
When Karlson isn't working he loves spending time with his family.
"I have an incredible wife and four amazing kids (nine and under), so we always have a lot going on."
Just last week, he and his wife returned from Oregon where she ran in the 199-Mile Hood-To-Coast running relay—he was the van driver, and stayed awake for 38 hours straight!
"We were invited to be a part of a World Vision team of 120 people who raised over $550,000 for clean water in South Sudan. This means over 11,000 people will now have fresh water for life—it was an incredible experience to be a part of this adventure with her."
Source: RE Journals