October 2017
Who's Next? Examining the Future of PMD Rezoning in Chicago
By Alex Sutterer
Associate, NAI Hiffman Industrial Services
Planned Manufacturing District (PMD) zoning has shaped development in the City of Chicago for the past thirty years, but explosive growth and changing demographics in several neighborhoods is leading to a reevaluation of the established zoning. Modification of a PMD can impact the dynamics and economics of these areas for years to come, as well as drastically change property values.
In the years prior to PMD zoning, developers seeking opportunistic land sites targeted industrial properties in order to convert the land to a more valuable residential or commercial use. Consequently, the displacement of manufacturing firms caused industrial jobs to leave the downtown area in droves, in some pockets depleting nearly 50 percent of blue-collar jobs. The first PMD was proposed in 1985 to shelter industrial firms from being pushed out of the city and to combat declining employment. Today, Chicago is home to 15 PMD's, but the landscape is beginning to shift.
Factors affecting potential PMD rezoning include:
Gentrification of neighborhoods – A prime example of this is the evolution of the West Loop in just the last five years
Financial motivation from the local government – Upzoned areas are assessed at a higher property valuation for tax purposes
Industrial users' desire for more efficient space – typically large, one-story facilities with easy access for over-the-road trucks, buildings that are hard to find or expensive to create in an urban setting
Potential litigation – Building owners and investors may seek to relax PMD restrictions in order to maximize the value of their existing property.
An examination of conditions and responses to rezoning pressures in various PMDs provides insight into the future of the zoning in districts throughout Chicago.
THE CLYBOURN CORRIDOR
Perhaps the most remarkable changes to a PMD have occurred in the Clybourn Corridor on Chicago's north side, including Lincoln Park, which has been a hotbed of development speculation in recent years. Developers have purchased sizeable properties with intent to repurpose or scrape and redevelop into more profitable uses. Key areas with upcoming development plans include the former Chicago Tribune distribution site and the former Finkl Steel property.
Mayor Rahm Emanuel and 2nd Ward Alderman Brian Hopkins have both advocated and negotiated for the removal of the PMD zoning in a large portion of the Corridor, allowing for residential, retail, office and mixed-use development. These negotiations have provided the blueprint for re-evaluation of other PMDs throughout the city.
KINZIE CORRIDOR
Kinzie Corridor is home to Chicago's Fulton Market District, West Loop and West Town neighborhoods. A handful of significant transactions have reshaped the landscape of the area and transformed the West Loop from a manufacturing-centric zone to a trendy spot for restaurant, retail, office and multifamily development.
Google's conversion of the Fulton Market Cold Storage building into its Midwest headquarters is emblematic of the type of change that swept the Kinzie Corridor in the past few years. Additionally, McDonald's Corporation's announcement of their intention to redevelop the former Harpo Studios property into their new global headquarters was another sign of the market's transformation.
Recently, the Department of Planning and Development revised the zoning from Halsted to Ogden to allow for increased density, adding significant value to the land. Currently, the land west of Ogden is zoned PMD and land values – while still very high for a PMD – are roughly half the value of property located just across the street.
Hannah Jones, Director of Economic Development at Industrial Council of Nearwest Chicago, said that Kinzie Corridor is next on the list to be evaluated in the "Industrial Modernization" project by the Department of Planning and Development, an evaluation slated for completion before end of 2017. Jones noted that land close to the United Center is usable for developers considering mixed-use development and predicted that the PMD east of Ogden would be removed, while the PMD zoning designation would remain in place west of Ogden. Other developers believe that the area's massive growth and success will also lead to the elimination of PMD zoning west of Ogden within the next three years, if not sooner.
KINZIE CORRIDOR – LOOKING AHEAD
The West Loop will continue to flourish as more companies seek trendy office space at a discount from Loop pricing. Randolph Street has proven itself as a destination for top-rated restaurants, and the Fulton Market area has attracted high-end galleries and ambitious start-ups. An abundance of high-end multifamily projects will continue to grow the population and perpetuate these trends. Because of this, the PMD east of Ogden will likely be lifted in the immediate future, allowing for additional commercial development. The PMD west of Ogden will likely remain for the short term, but prices will continue to rise and, eventually, this PMD will be vacated as well.
The Ashland Corridor west of Ogden will be interesting to watch as the fundamentals are present for redevelopment. In the short term, this will create an environment of specialized tenants and owner-users requiring immediate access to the Loop or quasi-industrial uses, such as breweries, coffee roasters and event spaces, displacing many of the existing tenants who will seek asylum from cost-prohibitive rent increases in other industrial pockets such as The Stockyards, Crawford Industrial Park or Bedford Park.
PILSEN
While both Clybourn and Kinzie have attracted a lot of attention, the Pilsen PMD – located between Ashland and Damen north of I-55 – is on many city developers' radar as one of the hottest submarkets to target for future growth. Pilsen's proximity to the Loop, an abundant building stock for adaptive reuse, a strong sense of culture and proximity to transportation are some of the fundamentals that Pilsen has to offer that make it so attractive to the real estate community.
However, strong opposition from neighborhood advocacy groups, along with the Alderman Danny Solis's hard stance on a 21% affordable housing requirement (versus a typical 10%) for all residential conversion projects will prove to be a hurdle for developers seeking new residential projects. Meanwhile, major industrial developments continue to flourish. Industrial food users, in particular, have targeted the area due to access to the Loop. They seek immediate proximity to other food users, especially those handling perishable goods. The "last mile" delivery access to I-55, I-90 and the Loop offered by the Pilsen PMD are attractive for logistics purposes, such as Amazon's location at 28th and Western Avenue.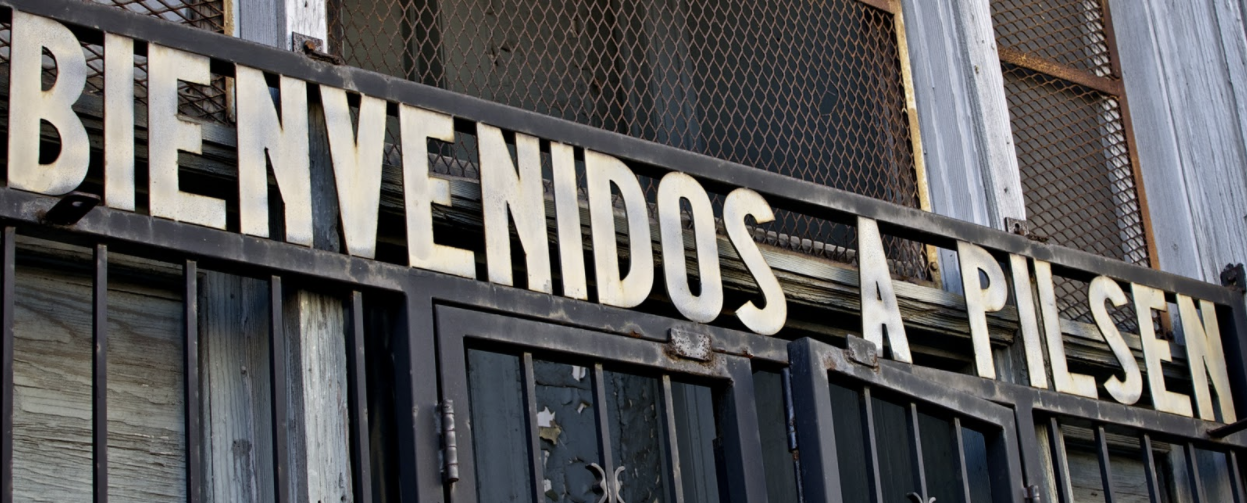 PILSEN – LOOKING AHEAD
As long as Alderman Solis retains leadership in the 25th Ward, Pilsen will remain a vibrant, culture-rich, affordable neighborhood. Residential projects will likely not come from conversions or buildings not already zoned for residential. A portion of the PMD zoning will remain enforced, but due to immediate access to the Stevenson & the Loop, historically low vacancy rates and limited supply of functional warehouses, land values will continue to push to $20 PSF and beyond, even within the PMD. This situation will create an environment of continued freezer/cooler development, last-mile logistics and the proliferation of owner/user buildings due to rising industrial lease rates. Other traditional industrial tenants, such as manufacturing, will be priced out of the leasing market to either purchase their building in lieu of paying a premium rent, or most likely, will continue the trend of western and southern migration down I-90 and I-55. Loosening of the PMD for non-residential use should be anticipated shortly after the Kinzie Corridor PMD is amended.
THE STOCKYARDS
The Stockyards – a roughly square-mile area bordered by Halsted, Ashland, 47th and 39th streets – is an historically industrial area, dating back over 100 years when users in the market processed, packed and shipped meat to the rest of the world. Today, it remains home to many local manufacturers and warehousing companies, yet a few recent developments look to modify the periphery of this industrial pocket.
At the corner of 35th and Ashland, for example, pushing south to Pershing, Alderman Pat Thompson is loosening restrictions on the existing PMD zoning to allow for commercial zoning. Alderman Thompson is not looking to break the PMD, but feels the best approach is a flexible, comprehensive assessment of the ward's strengths and areas of growth. He is emphatic that retention of jobs is critical, and that a case-by-case examination of developments is in the best interest of the community.
Thompson sees residential development as more concerning to existing businesses, but said that commercial and industrial properties coexist well, historically. He suggests seeking vacant land and industrial pockets further south to designate as a PMD to keep industrial jobs in Chicago.
THE STOCKYARDS – LOOKING AHEAD
The Stockyards will remain industrial for the foreseeable future. On a case-by-case basis, commercial may be introduced, especially on the northernmost area of the Stockyards and along Ashland and Halsted, which will push land values higher for these specific sites. Expect property owners within this defined area to seek to maximize their land value and convert industrial property into retail or mixed use, but don't expect any new residential development anytime soon.
CONCLUSION
Real estate values are drastically altered based on zoning and permitted use. Opportunistic developers will continue to seek property located in the "path of progress," pushing for rezoning of the site to maximize the return on their investment. Property owners must be prudent when evaluating their real estate and understand the consequences of potential zoning changes that affect their property.
The same concerns exist today that initiated PMDs in the 1980's – namely, maintaining both employment opportunities and affordable real estate for industrial users. The allure of the massive success of development and consequent rezoning of some PMD areas has opened the door to similar ventures across the city, but so far the checks and balances of local government and community feedback are encouraging a measured approach.